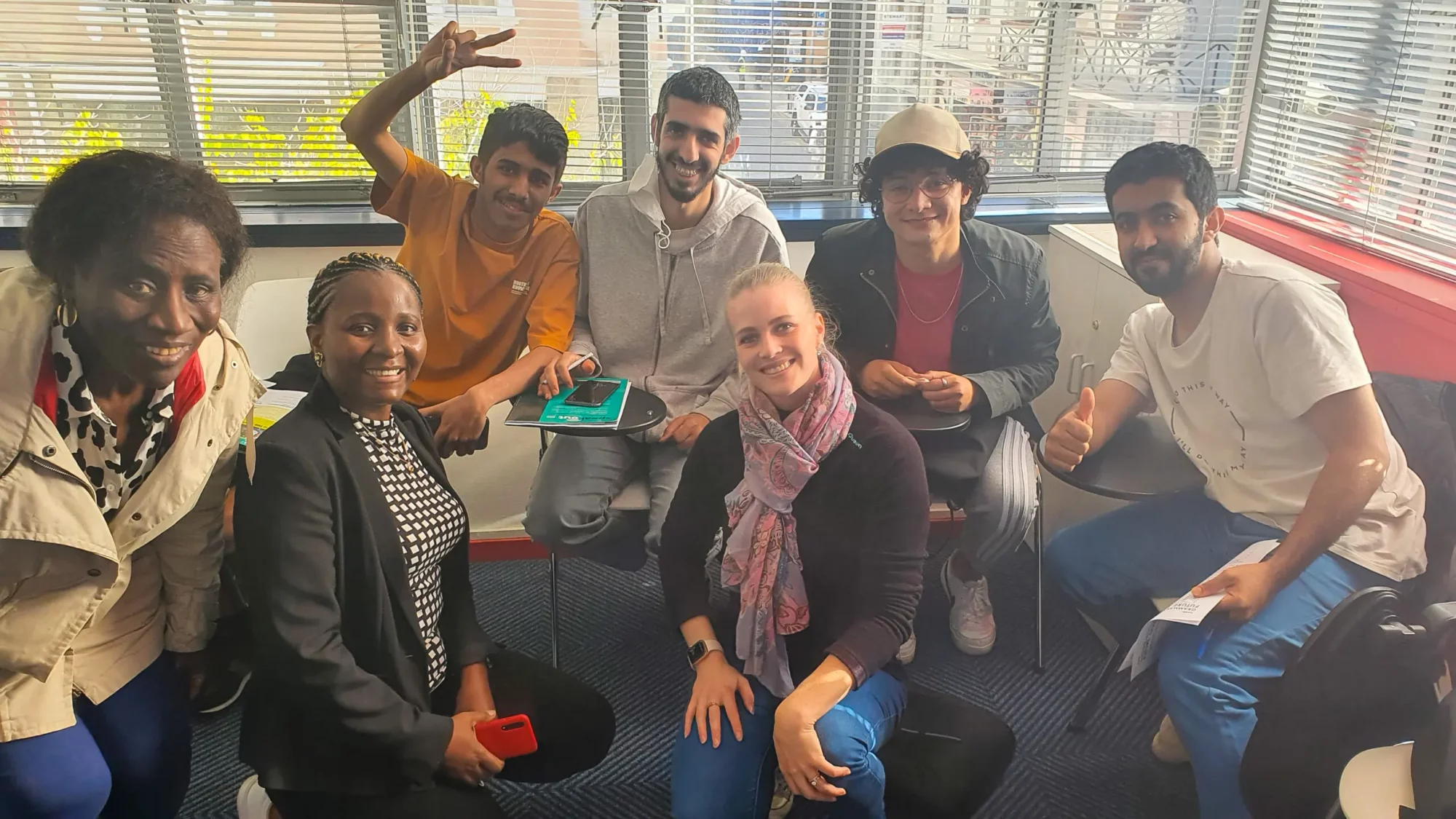 From Student To Student: You Will Only Learn English When You Follow This Advice!
Oct 18, 2023
Brazilian journalist Hilberto Emmanuel, student at International House Cape Town, shares his study experience and how he has learned a new language.
The International House is not a school, it's a family. Family that hugged me and has brought me closer. In fact, I couldn't have chosen another school to learn English. In these almost three months of course, my evolution in the language is remarkable and indisputable.
My name is Hilberto Emmanuel, I'm a Brazilian journalist and I'm in Cape Town to learn English. I went by International House to share my experience at the school and the guest. I've already told you here on the IH blog 3 facts and curiosities you need to know before traveling to Cape Town. Look!
Despite all the important recognition and contribution of the school, learning a new language goes far beyond the information acquired and quoting within the school's four walls, absorbing the knowledge of teachers. Learning a new language takes much more than that, and that's what I'm going to talk about.
From student to student and straight to the point: you will only learn English when you have discipline, patience and dedication. Read the text and learn more about it!
Don't compare yourself to anyone and respect your rhythm
First, it is important to understand and be aware that learning English is an individual journey. Each person learns in a way, each person has their own pace and time to develop. So don't compare yourself to anyone.
It seems obvious, but it's important to reinforce: study every day. Don't just learn English in the classroom. Create a habit and routine of studying at home. It doesn't matter if 10 minutes or 2 hours a day. The important thing is to set aside part of your day to study and review the content learned that day.
To learn a new language, are you more visual, auditory or kinesthetic? What skill do you develop best? I will talk more about this throughout the text.
Listen to music in English. I, for one, love it and learn a lot from it. Music helps expand vocabulary, train pronunciation and practice listening. Another suggestion is to listen to Cape Town radio. On Radiosa you will find dozens of them. (Cape Talk is my favorite radio!)
Another important indication is to change the language of your cell phone to English. Be prepared because actions that seemed simple, like changing the screensaver or doing some specific configuration, can be more challenging than you think.
Read texts, watch movies, seek conversation (even alone) and play games in English, but most importantly: don't worry if you make a mistake! You don't need to be ashamed or bothered by it, because making mistakes is part of the learning process. Believe in your potential and celebrate small achievements. It's not easy. But who said it would?
Learning skill
In the book Life of the National Geographic Learning, unit 10e, show that students can have different learning styles. Some students are more:
Visual: they learn by looking.
Auditory: they learn by listening.
Kinaesthetic: they learn by doing.
Do this quiz to find out your learning style. Choose the best ending (a-c) for you to complete these sentences. 
What's your learning style? 
1. When I learn English in class.
I like watching the teacher.
I like listening to the teacher.
I like doing something with other people.
2. When I learn a new word.
I draw a picture of it.
I repeat the word many times.
I imagine it in my head.
3. When I study for an English test.
I write notes and use different colours.
I talk to myself or other people about my notes.
I study and do physical activity at the same time. 
What do your answers mean?
Mostly A answers = You are a visual learner. 
Mostly B answers = You are an auditory learner.
Mostly C answers = You are a kinaesthetic. 
What was your result? Share with us! According to the National Geographic Learning test, I am an auditory learner. And it actually makes sense to me, because I love listening to music in English and I learn a lot.
Follow me on Instagram
Do you want to know more about my adventures and experiences in Cape Town? Follow me on Instagram @HilEmmanuel. Have a question or need more information? You can send me a message. Also follow International House on social media: Instagram, Facebook, Twitter and LinkedIn.
See you soon!